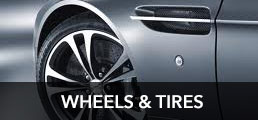 WHEELS
Do you want flash? Do you want flare? Or are you just looking to upgrade your wheels? No matter what your desire is, we have you want! We have the perfect rims for your car!
Nothing changes the look and feel of your vehicle like new rims. The right style of rims can make any make and style of car look dazzling and sleek. We offer alloy, aluminum, chrome, steel, and custom rims. Are you looking for a rim the same size as your factory rim or do you want a wider rim or bigger rim with a low-profile? Whatever look or style you want for your car we have what you need.
Choosing the perfect rims for your car isn't always an easy choice. Bring your car in and we can help you decide which style of rims are the best fit for your car.
We take any car from looking ordinary to looking stunning.
TIRES
Your tires are an essential part of your vehicle. Tires are the backbone of your vehicle. Tires add traction, braking, steering, and load support to your vehicle. Tire maintenance often gets neglected and overlooked. But your vehicle's tires are one of the most important elements of your vehicle to maintain.
Here are a few reasons of why it is important to maintain and replace your tires when needed:
Tires are the only contact between your car and the road. The proper pressure level will ensure that it provide the right level of shock absorbent, required traction and braking, provide proper directional steering and lastly, support the weight of the car and the passengers within the car.
Your tire loses pressure on a continual basis through time or whenever your tires hit a hard object such as a curb or when going over a hump in the road.
Tires experience uneven wear and tear. An over or under inflated tire will also result in uneven wear and tear on each tire.
To ensure your vehicle is maneuvering safely, it is vitally important to replace your tires when necessary.
We have a carry a variety of brands and sizes.